Dette event har allerede funnet sted.
Oslo Big Data Day
28. september 2017 @ 17:30

-

20:30

CEST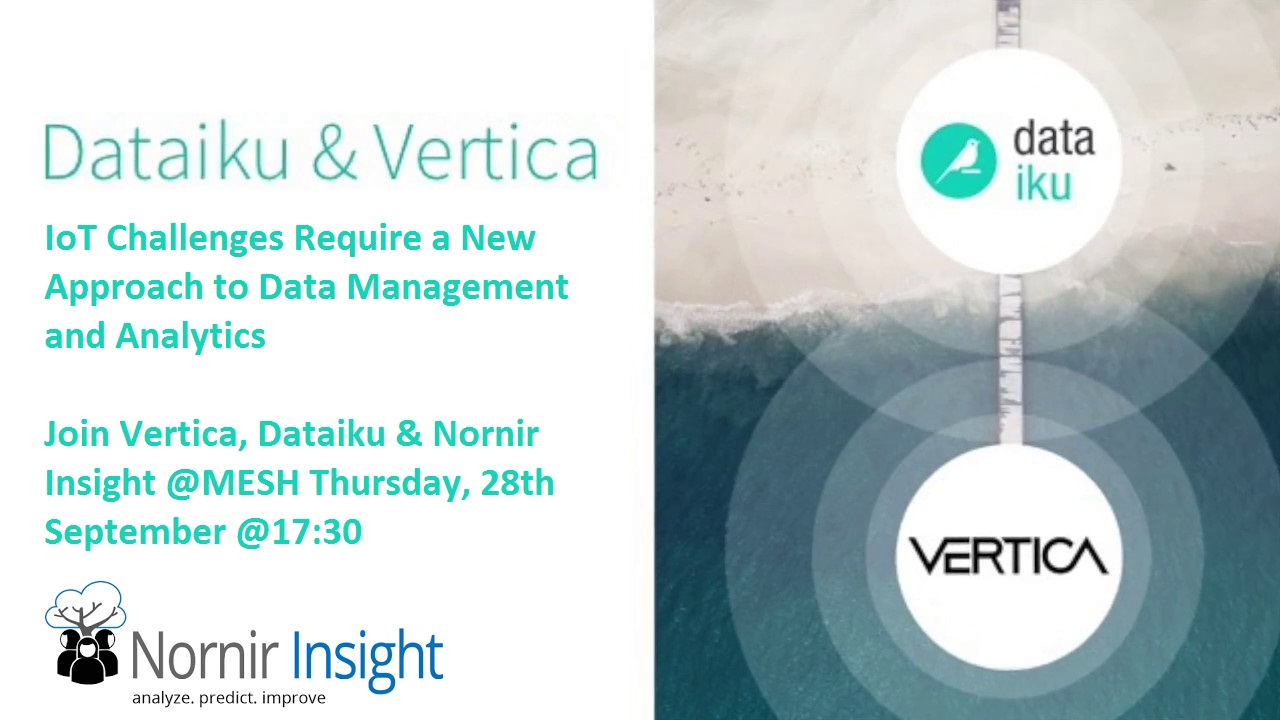 Please come join us at this «must-attend» IoT Meetup with Don Brancato (Vertica, USA), Nicolas Gakrelidz (Dataiku, France) on Thursday at MESH this week. Pizza & refreshments included and its for free!
SESSION 1: Introduction             JAN VERDIER & TRULS BERG, NORNIR INSIGHT
SESSION 2: "Thing to Value" : how to get your IoT gig sold to the business guys
DON BRANCATO (SEATTLE, USA), CHIEF TECHNOLOGIST AT HEWLETT-PACKARD ENTERPRISE VERTICA (NOW MICRO FOCUS)
Here's Don's Profile from OBDD at BI Norwegian Business School last May
SESSION 3: How the integration of Dataiku & Vertica can help you speed the deployment of data-intensive predictive analytics. 
NICOLAS GAKRELIDZ (PARIS, FRANCE), Sr. Data Scientist @Dataiku: "Under the Hood of Vertica & Dataiku: Faster Insights from Machine Learning"
Nicolas GAKRELIDZ is Senior Data Scientist for technological partnerships at Dataiku with 15 years expertise in digital, marketing and machine learning. He works with partners for developing solutions based on Dataiku Data Science Studio (DSS) for different industries and topic like Predictive Maintenance. He works with brilliant people who develop DSS, an agile and disruptive end-to-end data science software able to process a large variety of data by combining the best technologies and architectures.
Abstract:
Designing and deploying an effective predictive analytics model that is integrated into a company's daily business operations can be very challenging. Data scientists often use complex machine learning models to exploit large volumes of data from multiple environments and technologies to deliver analytics that the business needs.
Join us at this meetup, as we walk you through the data science journey applied to a real case and learn how you can automate the entire data science workflow.
Looking forward to see you all at MESH, September 28th @ 17:30