Picterus is an app designed to diagnose jaundice in newborns, and today they won the DNB healthcare prize and 1 mill NOK.
40 medtech companies applied for participation in the competition, and after several rounds of pitching the judges (Espen Tidemann Jørgensen, Anders Tuv, Runar Bjørklund, Ingrid Akay Teigland and Benedicte Bakke) nominated six finalists: Ultimovacs, Spiro Medical, Labrida, Vaccibody, GlucoSet and Picterus.
After six short pitches, Rune Bjerke from DNB announced Picterus as the winner of the award.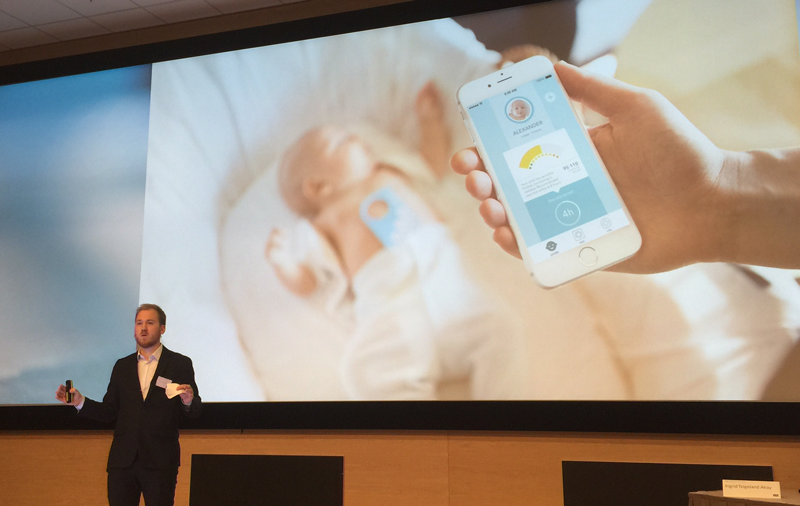 The finalists:
Ultimovacs AS
Ultimovacs is developing technology activating the immune system to identify and kill cancer cells. The technology is applicable to treat most cancers. Their leading product is UV1, a therapeutic cancer vaccine (TCV) directed against human telomerase (hTERT). The vaccine is a result of many years of pre-clinical and clinical research at the Norwegian Radium Hospital.
Spiro Medical AS
Spiro Medical AS has developed the ApneaGraph Spiro, a unique diagnostic tool for Sleep Related Breathing Disorders and Sleep Apnea. The device har been developed by Dr. Magne Tvinnereim and Dr Scient Rolf Kahrs HAnsen based on their work of measuring respiration by the use of a 0,5 mm thick catheter that is inserted in the esophagus and worn by the patient over night, either at home or in a clinic.
Labrida AS
Labrida AS: Innovative solutions for maintenance of dental implants. This focus is motivated by the strong demand for better and more user-friendly instruments addressing peri-implant disease, a rapidly growing world-wide, clinical problem. Their products are well scientifically documented, patented (pending) and regulatory approved (CE marked).
Vaccibody AS
Vaccibody is a clinical stage biotech company that uses proprietary, patent-protected Vaccibody vaccines, specifically tailored to induce a rapid, strong and long lasting immune respons.
GlucoSet AS
GlucoSet's glucose sensor for intensive care units (ICUs) will enable ICUs to reduce their costs and improve patient outcomes. ICU patients get stress hyperglycemia. Intensive insulin therapy significantly reduces length of stay and complication risk (eg infection, kidney failure). However, without reliable continuous glucose monitoring, intensive insulin theraphy is not safe or effective because of increased hypoglycemia risk.
Picterus AS
Picterus is an app under development designed to diagnose Jaundice in newborns. On a global basis, untreated jaundice in newborns is responsible for more than 100,000 deaths every year. In Norway and other industrialized countries, jaundice is a source of much uncertainty among parents and causes many newly fledged parents to repeatedly visits to the hospital. By using Picterus's app this can easily be avoided.